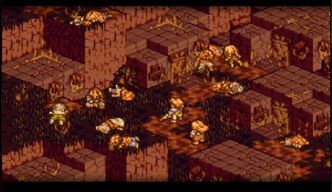 The Baramus Massacre is a major plot point in Tactics Ogre Let Us Cling Together. It is a major tactic by Duke Ronway in order to have the Walstanians and the Anti-Barbatos movement rally against Cardinal Barbatos to win the war.
Since the Walstanians were greatly outnumbered by the Gargastans, Duke Ronway had to initiate a way to have the Walstanian people unite and have the Anti-Barbatos rally to him in order to defeat Cardinal Barbatos. He learns that 5,000 refugees were hiding in Baramus and had Denim convince the people to fight with the Liberation Army.
As a backup plan, he ordered his right hand man, Leonard, to massacre the entire town, under the disguise as a Gargastan battalion. He also asked Denim to join the cause as well.
This plot point also is a way for the player to determine if he wants to go with the Chaotic Route by refusing Ronway's order or Lawful Route by accompanying Leonard in killing the Walstanian refugees
In the Lawful Route, the plan proved to be successful. The Walstanians have rallied together in order to beat Cardinal Barbatos and the Walstanian Forces have been doubled, enough to capture Coritani Castle. However it did not cause the Anti-Barbatos movement to join the Walstanians, instead they reunited with Barbatos in order to defend against the Walsta Forces. This is mainly due to Vice's underground guerilla army spreading the truth about what happened with the Gargastans. Duke Ronway, as a drastic measure, ordered the immediate attack on Coritani and had to defeat the Gargastans before the truth is revealed to his own army.
In the Chaotic Route, the plan proved to be ultimately successful. The Walstanians and the Anti-Barbatos Movement was able to unite with Duke Ronway and the Walstanian Forces has been tripled. With this enormous army, Ronway took Coritani Castle with ease. As a result, Ronway had Cardinal Barbatos publicly executed and the Gargastan army defeated.
Community content is available under
CC-BY-SA
unless otherwise noted.